A graphic designer is a vital asset to your organisation. In the recent business world, graphic designers are essential to keep you on top of your competition. By designing business and marketing products, these people will skyrocket your business operations. Graphic design services or exhibitions offer products such as; websites, logos, brochures, product packaging, business branding, magazines, books, signage etc. This article will discuss some of the reasons you need a graphic designer for your business.
Effective Business Branding
For a business to effectively run in today's competitive world, the services of a graphic designer are inevitable. For instance, a business is set apart from the rest of other companies by its logo. Usually, a logo spells the theme and goals of the organisation, you need a graphic designer to bring out your desired business theme. For your business to establish itself as a different brand with a distinct identity, a memorable, eye-catching logo and creative technology is a requirement. Additionally, to effectively carry out business operations, a business needs social media pages and mobile apps for marketing and business promotions. Expert services from a graphic designer can achieve effective branding.
Promote Sales in Business
Services offered by graphic designers are essential to boost sales in business. Graphic designs such as business cards or packaging of a product send a particular message to the customers. A highly thought-out design demonstrates that your business is all about quality products. This attracts customers into your business and eventually converts them into loyal customers of the brand.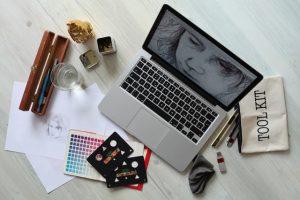 Separates your Business from Competitors
Very few businesses invest their time and resources to hire expert graphic designers for their business needs. When you invest in a graphic designer, you're separating yourself from the chaff of the business world. You come out as a professional who is serious about their business and customers. Most businesses tend to go the extra mile to create professionally made graphics either for their website or for their products, by devoting your time and offering quality services, you're sure to beat down your competitors.
Relay the right Brand Message
By employing graphic designing in your business, you will be able to send the right message to your pool of customers and potential customers. Before the message is relayed, graphic designers usually work in hand with the marketing team to internalise the message of your business. From there, appropriate colours are selected to help enforce the message by invoking particular emotions to the customers. The feeling evoked of the holds the message of the brand. For instance, white and green may relay tranquillity, and natural feelings, whereas red and yellow may relay passion, energy and socialisation.
Create the Right Brand Image
Selecting the right graphics and words creates a positive brand image towards the public. A graphic design that has been designed aesthetically beautifully accompanied by the right words attracts the audience to the brand. Customers will have the confidence to be associated with the brand due to the way they display themselves. Evoking the right emotions is essential for graphic designs to attract customers into the business.
Enhances Content Created
In the online business world, it's tough to keep viewers interested in your business content, because there are other websites in need of their attention. For this reason, creating high-quality graphics to accompany your content is likely to keep them glued to your site. Additionally, by asking your graphic designer to create infographics as a summary of your content, you're likely to get more viewership. Research shows that infographics in website content get the highest number of shares. Therefore, by employing the services of a graphic designer, you will be attracting more customers to your business.